Guiyun zhou
Dr. Guiyun (Gwynn) Zhou, DNP, CRNP, AOCNS has over 25 years of clinical nursing experience in both USA and China, of which nearly 20 years in oncology nursing. Dr. Zhou has worked in many major hospitals (including Yale New Haven Hospital, Johns Hopkins Hospital, Hospital of the University of Pennsylvania) and cancer clinics across USA. She obtained initial nursing education in China, received Bachelor of Science in Nursing from Bethel College in Kansas, Master of Science in Oncology Nursing from University of Pennsylvania, and Doctor of Nursing Practice from Thomas Jefferson University.
Dr. Zhou is board-certified as Nurse Practitioner and Advanced Oncology Certified Nurse Specialist (AOCNS®) since 2005. She focuses on patient-centered care via a physiological-psycho-social approach. She specializes in cancer care education for patients and families, treatment side effects evaluation and management, cancer symptom evaluation and management, social and emotional needs evaluation and management, care coordination, health promotion and cancer prevention, palliative and hospice care, cancer survivorship care planning. Dr. Zhou also conducts nursing staff training and education on chemotherapy safety, precision nursing care and evidence-based nursing protocol development, etc. She manages oncology clinic care quality standards and organization improvement to obtain ONS® and ASCO® Quality Oncology Practice Improvement (QOPI®) certification.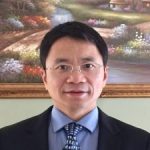 bingbing feng
Dr. Bingbing Feng has nearly 20 years of experience in the pharmaceutical industry, serving executive and leadership roles in both USA and China. Dr. Feng worked in major pharmaceutical and contract research organizations, such as GlaxoSmithKline, Frontage Laboratories, Alliance Pharma, and United States Pharmacopeia (USP). He was the Vice President of USP and General Manager of USP-China. He studied at University of Science and Technology of China as undergraduate and continued at James Madison University, Virginia, where he got Bachelor of Science in Chemistry. He received his Doctor of Philosophy from Purdue University for studies in analytical chemistry, and completed post-doctoral research at Pacific Northwest National Laboratory.
Dr. Feng is a highly accomplished and results-oriented senior pharmaceutical executive, with extensive global experience in China and the U.S. in business unit management, strategy development, site and laboratory operations management, marketing and sales, account development, governmental relations, and product research and development. He leverages excellent leadership and communication skills to develop and manage high-performing teams and interface with diverse international partners and stakeholders. As forward-thinking and innovative leader, Dr. Feng develops and implements strategies that empower teams, enhance systems, increase productivity and impact, benefit stakeholders in the long run.